We help clients:
Reduce the stress, time, and cost of divorce
Have confidence during negotiations
Avoid turmoil for their children and family
Our financial mediation services provide clarity to divorcing couples so they understand their options and get divorced without destroying their family or finances.
I see this company as an opportunity to use my experience to "make a difference" and help others through one of the most difficult times in their lives.
Accepting a divorce settlement does not have to resemble "Pin the Tail on the Donkey." Our financial mediation services help clients take off the blindfold, understand the numbers and secure the future for themselves and their children.
We educate clients about the financial and tax issues of divorce. They are then able to recognize a reasonable offer and understand the short- and long-term impact of settlement options. This knowledge allows them to reduce conflict and make smart choices that secure their financial future while preserving family relationships.
We also review child support and parenting plans.
Going Your
Separate Ways?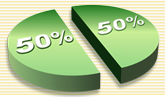 10 Common Money Mistakes in TN Divorces

Divorce Financial Mistake #1
Underestimating your expenses
You should make a complete list of your monthly living expenses, which includes cost-of-living increases for the duration of alimony (paid or received). Each year the costs for utilities, groceries, lawn care, health, and home insurance increase. If you don't consider cost-of-living increases, your alimony probably won't cover your expenses after the first year of divorce. If you are paying alimony, you need to know your correct expenses or you may agree to alimony that you cannot afford.

Divorce Financial Mistake #2
Assuming your attorney will handle everything
Your attorney is trained to handle the legal issues. Even the best Nashville divorce attorneys are not certified divorce financial planners, were not trained to perform financial analysis or address tax issues. Our firm works with your attorney or mediator to provide the back-up calculations to support your alimony request or support why your spouse's alimony request is not reasonable.

Divorce Financial Mistake #3
Not correctly utilizing experts
Many people make the mistake of confusing the expertise of the professionals with whom they work. Your attorney is the best resource for legal advice and understanding TN divorce laws. A financial professional can help with financial advice, calculations, budgets and tax issues etc. But, for emotional challenges presented by this life change, your therapist is the one with the tools to assist you. Make sure that whoever's clock is ticking is the professional whose skills can be most advantageous to you at that point. Your result will be both better and more cost-effective divorce advice.
Divorce Financial Mistake #4
Not taking tax deductions
Did you know that divorce attorney's fees for obtaining alimony and retirement funds may be tax deductible in the state of TN, if you qualify? Did you know that TN alimony is not taxed income to the recipient and is not a tax deduction for the person paying? Did you know that many high-income earning fathers do not qualify for the child tax credit? We educate clients about the tax issues of divorce and this knowledge will reduce conflict. No reason to argue over non-issues.

Divorce Financial Mistake #5
Failing to communicate directly with your spouse
Attorneys are best utilized for legal advice and drafting legal documents. It is not cost-effective for your attorney and your spouse's attorney to communicate back and forth concerning your preference to "have the kids on even years for Christmas" or "keeping the treadmill and the sofa". Two attorneys' fees combined can easily be $800 per hour. Save the extra cash for a much- deserved vacation after the divorce is over or for a contribution to your IRA or children's 529 account. Discuss (or email) minor issues directly with your spouse.

Divorce Financial Mistake #6
Concealing financial information
Don't do it! Time and money will be spent gathering information during the divorce process. If you or your spouse fail to provide all requested information an attorney will subpoena documents and perhaps schedule depositions. Assets will be found. It just takes more time and money. Cooperate and put your money to better use (i.e., a vacation or an IRA).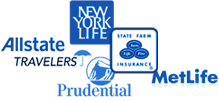 Divorce Financial Mistake #7
Not insuring alimony and child support
In most cases, alimony and child support stop upon the death of the payor. If you are receiving alimony or child support, protect your stream of income by ensuring the settlement requires your spouse to maintain a life insurance policy throughout the duration of your alimony and or child support. Child support should be insured to include the cost of private school (K – 12), vehicles and or college if that parent has agreed to pay for those expenses. Tuition expenses increase on average 7% per year. Remember to incorporate cost-of-living and tuition increases in your life insurance calculation.

Divorce Financial Mistake #8
Should the wife keep the house?
This is a hard one. Women have nesting instincts. But can she really afford the mortgage, monthly maintenance, repairs, insurance, taxes and utilities? Is her budget complete? Our monthly budget has 140 items. How many items are in your budget? Did you include the deductible for your health insurance, painting the exterior of your house or having tree limbs trimmed? If you forgo retirement savings to keep the house, you are gambling with your future. Do you feel lucky? Refer to our FAQ page for more items to consider if you want to keep the house.

Divorce Financial Mistake #9
Not considering mediation
Mediation involves you and your spouse meeting with a neutral third party to reach a settlement. The mediator cannot tell you what to do. They are skilled in helping the parties overcome "sticking points." According to recent statistics published by the TN courts, 95% of all divorce cases are settled outside of court. So, using a TN mediator makes sense and is less expensive and stressful than litigation. We provide divorce mediation services. Visit our tab on divorce financial mediation for more information.

Divorce Financial Mistake #10
Accepting an offer just to get it over with
"Yes," you are an emotional wreck and you just want it over. However, during a divorce you will be making the most important financial decisions of your life. Take the time to do it right. Speak to a financial professional to understand the short- and long-term financial impacts of your potential settlement package. Don't assume that Tennessee divorce law mandates a 50-50 division of property. Also, don't assume that a 50-50 division of assets is the same thing as a fair division of property. Refer to our case study for more information on why you may deserve more than 50%.
Sandy's financial counsel was invaluable as I traveled through my divorce. At a very emotional time, she helped me focus on my long term financial goals, develop a budget, and make wise decisions during mediation. She even testified on my behalf when I had to go to court, spelling out clearly and concisely for the judge what the financial issues were and why I needed the support I was requesting. The result was a better outcome than I had anticipated. Clearly, I could not have received that settlement without Sandy's help and guidance with the financial issues. I would highly recommend that anyone going through a divorce remember that the financial decisions made will affect the rest of your life so it is best to have Sandy and her associates on your side.